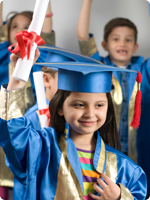 Our Program
Program Overview
We offer programs for Infants, Toddlers up to Kindergarten. We provide separate classrooms for each age group.
Programs by age group:
Infants and Toddlers - 6 weeks to 24 months
Note: Tarzana campus offers programs for 2 years up to Kindergarten entry only.
We offer year round full-day and half-day programs. Parents can choose between morning, afternoon or full-day programs that are two, three, four or five days per week. School's operational hours are from 7.00 am to 6:30pm.
The school provides nutritious snacks and hot lunches.
Our child care center also offers enrichment classes at an additional cost.
Preschool-2 Program
Preschool-2 curriculum have interesting weekly themes. Weekly topics such as bugs, dinosaurs, zoo animals, shapes, farm animals, etc are introduced to the class. Simple learning activities and worksheets are provided to the students according to the level of the students.
We offer a structured program with a variety of fun activities to keep our twos busy. They are introduced to a few Montessori practical life activities, letters and sounds, counting activities, music movement, crafts and much more.
Preschool-3 Program
Students need to be at least 2 years and 10 months and fully potty trained to enroll in the program.
The program offers a full range of Montessori activities practical life, sensorial activities, language, math and cultural topics. Teacher's present individual as well as group lessons to the students. Along with the Montessori activities, weekly themes are added to the curriculum.
Students are introduced to new subjects such as planets, dinosaurs, bugs, reptiles, amphibians, community helpers etc. Students complete a math and a language worksheet each day that is based on our syllabus. Students' progress is tracked by the class teachers and communicated to the parents in parent teacher conferences.
Pre-Kindergarten & Kindergarten Program
Students need to be 4 years by the month of December to join the program. Classrooms are equipped with the full range of Montessori activities. Along with Montessori lessons, students are introduced to an array of new topics every week. Students' complete syllabus based math and language worksheets on a daily basis. Teachers track the students' progress in the class and fill out an evaluation form for each child.
Parent teacher conferences are conducted twice a year where the teacher gets to share each student's progress and development goals with the parent. This is a well rounded program that focuses on intellectual, cognitive, social and emotional growth of the child and prepare students for elementary education.
Enrichment Classes
Little Scholars Montessori offers below enrichment classes (Class offering varies by location):