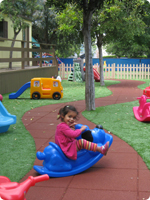 About Us
We use a traditional Montessori and Preschool methods with an academic approach to learning in a safe atmosphere that includes:
A structured curriculum that includes Math, Language, Phonics, Science and Geography with specially designed materials
Arts & Crafts
Physical Education
Music and movement
An optional Spanish, dance, Soccer and Piano classes are available
Our classroom environment is carefully designed to encourage children to grow through interaction and individuality, as children learn through hands-on experience with lessons along the way.
Our classrooms are designed with areas of Practical life, Sensorial, Math, Language, Cultural and Manipulative materials. The materials in each of these curriculum areas reinforce the underlying objectives of concentration, order, coordination and independence. Our curriculum also consists of weekly themes.
Our facility offers a sense of warmth and security in a truly pleasant surrounding. We provide separate classrooms for each age group. Our classrooms are large, clean and well arranged to stimulate children's interest, while still being comfortable and cozy.
We have beautiful artificial turf play yards with developmentally appropriate play equipment set in plenty of natural shade.
We offer programs for Infants, Toddlers up to Kindergarten. Our diverse staff consists of qualified Preschool and Montessori trained Teachers.
About the Montessori Method
The Montessori way offers a sensible, structured system that allows a child to develop at their own pace, using their own abilities, with the guidance of a trained Montessori teacher and using specially designed materials. The method is based on a balance between freedom and structure specifically designed for the young child. It provides a pleasant environment with carefully designed materials that meet the child's needs.
Children long to do "real" work. They want to participate in family life and help care for themselves and their environment. Montessori helps meet these needs to give your child a strong basis in their most formative years for developing into a well rounded, responsible, happy adult.
Although the Montessori Method has very definite structures, it is also flexible and open to individual interpretation. Hence, it is wise for the parents to meet with the teacher and also observe a class in action to discover the particular style of Montessori.